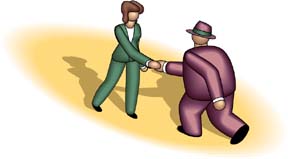 Do you want to schedule a private appointment or consultation with LaVina Pratt? She is available to meet with people on a one-on-one basis to discuss Handwriting Analysis, Personality Profiles, Juvenile Problems, Criminolgy, Career Planning, Relationship Compatibility, Employee Screening, or any of the other handwriting related fields and processes. She is personable, easy to talk with, and can offer very good insights into people's psyches and thought processes, based on what she learns from a person's own handwriting and then applying good sound psychology to what she sees.
She currently maintains an office in Boise, Idaho, but in special circumstances can travel.
Email her and ask about what you have in mind!