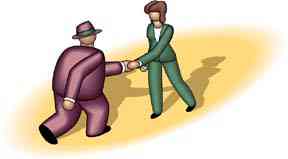 Are you looking to hire that perfect person for a job? Do you want to spot and avoid the five Hell Traits in hiring anyone? Take the guess work out of the equation with Handwriting Analysis! It will work for every job in your work place. Let me prove to you that Handwriting Analysis is a pre-employment tool that will actually save you dollars, energy, and time!
Instruct your potential employee to:
Use their favorite ballpoint pen and a piece of white paper.
Write a full page about anything that interests them.
Write a brief sentence giving us permission to analyze their writing.
Sign their name.
Then YOU (the employer), need to:
Please specify the purpose of this Graphoanalysis (hiring, promotion, etc.), and the details of the position.
Include a check for the correct amount (Check the Price List for the approriate amount).
Mail to the address listed below. Your finished analysis will be returned promptly.